My Biography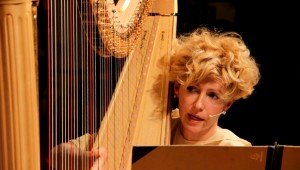 Equally active in classical and contemporary composed  music as well as free improvisation, Milana Zarić  combines orchestral and ensemble work with solo harp performance,  connecting the classical idiom to contemporary sensibility and new technologies.  Organizer as well as performer in collaborative projects, she aims to create new bridges and challenge the boundaries between the traditional roles of composer, performer and improviser.
Milana Zarić holds the position of principal harpist at the Belgrade Philharmonic Orchestra since 2005, performing regularly under top international conductors and soloists. The orchestra has recently toured the United States, including Carnegie Hall in New York. In April 2014, Milana has appeared as soloist with the BPO in Belgrade.
Milana is active as a soloist and chamber musician, having been the founding member of several chamber groups based in Serbia and Holland. Since 2010, Milana has commissioned new works for solo harp from composers Richard Barrett, Hugo Morales Murguia, Falk Huebner, Teodora Stepančić, Jasna Velicković and Ana Gnjatović. The piece tendril, for harp and electronics, written for Milana by Richard Barrett, has so far been performed in Belgrade, Zagreb, Melbourne, Singapore, London and New York City.
From 2009 to 2011, Milana was doing research in contemporary music for harp and improvisation, at the Royal Conservatoire in The Hague. Upon her return to Belgrade, she formed, together with trumpet player Nenad Marković,  a contemporary music collective and ensemble Studio6. The ensemble project highlights include a performance of Heiner Goebbels' Songs of wars I have seen in Belgrade in 2013, conceptual project Intimate rituals, combining original music by Eastern European maverick composers Ernö Király and Horațiu Rădulescu, as well as the commission of an hour-long cycle of pieces by Richard Barrett close up, to be premiered in 2016.
Milana is also the principal harpist of No borders orchestra (NBO), young and upcoming symphony orchestra consisting of musicians from all the republics of ex-Yugoslavia. NBO's debut CD has been released by Deutsche Grammophon in 2015.
Being actively involved in education projects, she is also giving harp workshops for students, composers and improvisers. Milana is also a successful harp teacher, whose students have won numerous prizes at international competitions.
She collaborates regularly with composers and has given first performances of many works in recent years. As one of the major proponents of XX and XXI century music in Serbia, Milana has given Serbian premieres of solo and ensemble pieces from composers as diverse as F. Donatoni, J. Cage, S. Steen-Andersen, R. Murray Schafer, K. Stockhausen and C. Wolff.
Apart from her involvment in contemporary composed music, she is an active free improviser, often in various groups or in a duet with Richard Barrett. Improvisers with whom she has worked with include Chris Cutler, Annie Gosfield, Butch Morris, Peter van Bergen, Yedo Gibson, Anne la Berge, Zsolt Sőrés.  Her pioneering work for the improvised music scene in Serbia has also led her to found a collective for improvised music ImprovE2, which has been organizing regular monthly events in Belgrade since 2012, with over a hundred performers so far.
Milana's festival appearances include Culturescapes Basel, November Music, Den Bosch, Rotterdam Operadagen, BEAM festival, London, Music Biennale Zagreb, BEMUS, BITEF, Ring Ring and International review of composers in Belgrade, as well as the recent Richard Barrett@Spectrum festival in New York City.
Milana holds degrees from University of Arts in Belgrade (Bachelor studies in 2000); Trinity College of Music, London (Postgraduate Advanced Diploma in 2002, with Gabriella dall'Olio, Imogen Barford and Sioned Williams ); and Royal Conservatoire in The Hague, Netherlands with Ernestine Stoop (Master of music in 2011).