Studio 6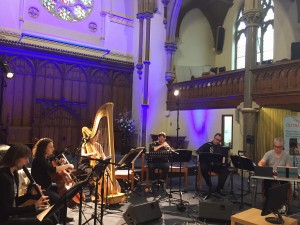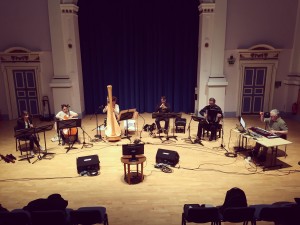 Studio 6 is a collective of Serbian performing musicians devoted to promotion of today's music. A modular ensemble, which includes Baroque flutes, trumpet, harp, accordion, cello and electronics, gathers internationally acclaimed performers of both composed and improvised music. The artistic goal of the collective is to encourage a dialogue between listening, interpreting and creating in contemporary music. Co-founder and artistic director of Studio 6 is Milana Zarić.
Their activities range from Serbian first performances of 20th century solo and chamber repertoire, to educational workshops for students and performances of experimental pieces by younger generations of composers and sound artists. Special attention is given to commissioning and creative collaboration on new pieces, given the possibilities of the ensemble's un-orthodox instrumentation, as well as welcomed additions of other performing arts, such as theatre, dance and video. In addition, an extensive research is conducted towards the avant-guarde composers of the Yugoslav era, such as Ernö Király.
Recent collaborators include Richard Barrett, Svetlana Maraš, Katalin Ladik, Jonas Kocher, Agustí Fernandez, Heiner Goebbels, Ensemble Phoenix Basel, Ensemble Proton Bern, visual artists Biljana Djurdjević, Incredible Bob, Rodrigo Casares.
Ensemble Studio6 has been regularly supported by the Serbian Ministry of Culture for their innovative concert seasons since 2014; and also by Ernst von Siemens Foundation, SOKOJ Fund for culture, Hinrichsen Foundation, Ralph Vaughan Williams Foundation, Société de Musique Contemporaine Lausanne (SMC), IGNM Basel
recent  activities:
September 2021, Swiss tour – Biel/Bienne, Basel, Zurich, Lausanne;                                                  Ensemble Studio 6 + Jonas Kocher = Belonging
Concert seasons 2019-2021 in Serbia, with support from Ministry of Culture and Information; performances throughout Serbia, partnerships with institutions, collaborations with domestic and international musicians, visual and performing artists
UK tour 6-10 March 2018
Ensemble Studio6 + Richard Barrett: close-up, for six players in six parts
Concerts in London, Leeds and Oxford + BBC Radio 3 Broadcast 'Hear and Now'

Richard Barrett: Codex XII
first performance, April 2013, Cultural centre Rex, Belgrade
Berio / Donatoni, Classics of modern music, October 2020
Erno Kiraly – Centennary of birth, Ensemble Studio 6 with Katalin Ladik, Zsolt Sores and Richard Barrett, 2019.
Intimate rituals project, Novi Sad, December 2014
music by E.Kiraly and H.Radulescu
Songs of wars I have seen by Heiner Goebbels
performed at BEMUS festival, Belgrade Drama Theatre, October 2013
https://www.facebook.com/ensemble.studiosest
https://www.facebook.com/Studio6-Contemporary-Music-Collective-100284498509381