Studio 6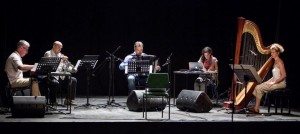 www.studio6.st
Studio 6 is a collective of Serbian performing musicians, composers and theorists, devoted to promotion of today's music. A modular ensemble, which includes Baroque flutes, trumpet, harp, accordion, cello and electronics, gathers internationally acclaimed performers of both composed and improvised music. The artistic goal of the collective is to encourage a dialogue between listening, interpreting and creating in contemporary music.
Their activities range from Serbian first performances of 20th century solo and chamber repertoire, to educational courses for students and performances of experimental pieces by younger generations of composers and sound artists. Special attention is given to commissioning and creative collaboration on new pieces, given the possibilities of the ensemble's un-orthodox instrumentarium, as well as welcomed additions of other performing arts, such as theatre, dance and video. In addition, an extensive research is conducted towards the avant-guarde composers of the Yugoslav era, such as Ernö Király.
Recent collaborators include Richard Barrett, Agustí Fernandez, Heiner Goebbels and Ensemble Phoenix Basel.
For more information, please visit: www.studio6.st
Forthcoming projects:
18 September 2015
Ensemble Studio6 + Ensemble Phoenix (Basel) perform together at Swiss music days festival in Belgrade, UK Parobrod, 21.30h
works by E.Kiraly, S.Maraš and J.Frey
11 December 2015
Ensemble Studio6 performs at Serbian Cultural Centre in Paris
works by V.Globokar, E.Kiraly and Dj.Marković
2016
Richard Barrett: close-up, cycle of 5 pieces, commissioned by Ensemble Studio6
tendril for harp and electronics, pauk for trumpet and accordion, nacthfalter for recorder, cello, harp and electronics, codex XII and šuma – for ensemble
Cornelius Cardew The Great Learning, Novi Sad
Ernő Király Flora, cycle of chamber pieces by the late composer

Studio 6  ensemble are:
Milana Zarić, harp, electric harp, zither, zitherphone
Nenad Marković, trumpets
http://ensemblelaboratorium.com/index.php?p=markovic
Karolina Baeter, recorder and Baroque flutes
http://karolinabaeter.instantencore.com
Svetlana Maraš, electronics
Vladimir Blagojević, accordion
http://www.youtube.com/user/vladiblago?feature=mhee
Ivana Grahovac, violoncello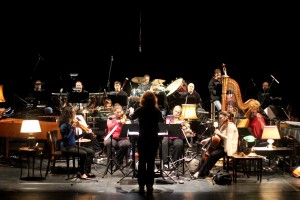 Musicians and associates:  Richard Barrett (electronics, composer), Teodora Stepančić (piano, tablophone), Ksenija Stevanović (music editor at Radio Belgrade), Ivana Neimarević (music editor at Radio Belgrade), Premil Petrović (conductor), Milena Pavlović (piano), Borislav Čičovački (oboe), Jasna Veličković (composer), Stevan Kovač Tikmajer (composer), Branka Popović (composer)
Richard Barrett: Codex XII
first performance, April 2013, Cultural centre Rex, Belgrade
Karlheinz Stockhausen: Awake 
performed at Dom Omladine Beograd, December 2014
Intimate rituals project, Novi Sad, December 2014
music by E.Kiraly and H.Radulescu
Songs of wars I have seen by Heiner Goebbels
performed at BEMUS festival, Belgrade Drama Theatre, October 2013