Electroacoustic duo with Richard Barrett
Milana Zarić, acoustic/electric harps, electronics
Richard Barrett, electronics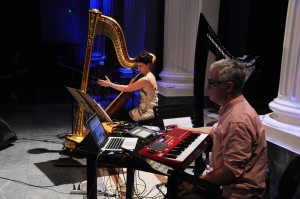 Milana and Richard started collaborating in 2011 in the Sonology Ensemble at the Institute of Sonology, Royal Conservatoire in The Hague. Since 2013, they have been regularly performing as a duet, and also in collaboration with musicians and ensembles around Europe, the US and Australia. They have given lecture-recitals at universities and conservatoires in the UK (RNCM Manchester; Guildhall School of Music; City University, London; Birmingham Conservatoire; Leeds and York universities), and the US (CalArts, Los Angeles; Minneapolis and Buffalo universities).
They both teach the Collaborative Music Creation class at the Royal Conservatoire in The Hague.
Richard and Milana perform composed as well as freely improvised music, often in the same context. In their work, they explore the sound space between acoustic and electronic instruments. Through electronic manipulations, they find common denominators – creating new sound worlds through their mutual meta-instrument.
Richard wrote tendril for harp and electronics in 2013, and since then, it has been performed at Ring Ring festival in Belgrade, Showroom of contemporary sound festival in Zagreb, City University London, Guildhall School of Music, London, Richard Barrett@Spectrum in New York City, Melbourne, Singapore, Novi Sad, Budapest, Birmingham Conservatoire, Bangor Music Festival, Swansea NAWR series, University of Minnesota and CalArts in LA.
šuma for harp and electronics has been performed at NOVA Festival and International Review of Composers Festival in Serbia in 2017. In November 2017 it was performed in Minneapolis and LA, and in January 2018, in Birmingham and London. In 2022, the duo performed both pieces at the World Harp Congress in Cardiff.
Nocturnes is a collaborative piece for electric harp and electronics, which was premiered in Serbia in 2019, but which was also a part of their UK tour in October 2019 (Manchester, Leeds, York, North Wales).
_________________________________________________________________________________________
Milana and Richard premiered a virtual concert on You Tube on 7 June 2020. Restless Horizon consisted of four collaborative pieces, two of which were performed for the first time. Restless Horizon takes its name after a painting hung behind the performers in the video, by the Serbian modernist painter Stojan Ćelić (1925-1992). Sphinx is a fixed media binaural electronic piece, accompanied by an original video.
________________________________________________________________________________________
In 2021, they formed a Bandcamp label Strange Strings, where their first album Mirage was released. https://strangestrings.bandcamp.com
From Richard Barrett's liner notes to the album:
This release documents the current stage in the evolution of our duo music, which gained momentum during the spring of 2020 when all of our other collaborative musical activities were suddenly curtailed. The first music we played regularly as a duo was my composition tendril for harp and electronics, written in 2013, which, in its duo form, combines a precisely notated score and a fixed media electronic part with freely interpolated improvisation for both participants.

tendril

subsequently became the first of the six parts that make up my electroacoustic sextet

close-up

, which is analysed in detail in my book

Music of Possibility,

together with an interview between Milana and myself which centres on the particular challenges of alternating spontaneously between intricate notation and improvisation. The final part of

close-up

is entitled

šuma

("forest"), in which all six performers find their own pathways through such an alternation. It can also be played by different combinations of fewer than the entire ensemble, as here, where the harp part (separately performable as

cyme

, whose title denotes a characteristic kind of branching in the development of certain flowers) is combined with the electronic part (

epiphyte

– a plant that grows upon another plant without being parasitic on it, such as the numerous ferns, bromeliads and orchids which grow on tree trunks in tropical rainforests), and the tutti passages from the sextet are omitted. In this duo version, the largely percussive and textural electronic sounds entwine themselves around the harp sounds, which mostly take the form of a developing line like a stem that twists and bifurcates as it grows.
As the duo work has continued, it has focused increasingly on collaborative compositions developed through improvisation, beginning with nocturnes, consisting of three parts which flow into one another seamlessly: the first is organised around a time-dilated moment from Debussy's Nuages and the second around a recording of a lakeside chorus of frogs and insects, while the third emerges from a highly processed recording of our son singing to himself at the age of two, and evolves towards an atmosphere of anxiety and nightmare. In nocturnes the acoustic harp is replaced by an electric instrument, whose two outputs (for the high and low strings) are sent through different and changing processing in a computer, their parameters manipulated by Milana in real time using a MIDI controller which becomes part of the instrument, alongside various acoustic transformations produced by preparing the strings and/or actuating them with objects other than the player's hands.
A similar setup is used in restless horizon, named after a painting by the Serbian artist Stojan Ćelić (1925-1992). (central painting in the photo below). But in this piece the electric harp tends away from the recognisably plucked sounds that still permeate nocturnes, and towards a much more "electronic" sound-world, not just in timbre but also in the kinds of dense sound-structures it generates, sounding now less like an instrument and more like an angular but organic kind of machine, switching abruptly between textures, sometimes in parallel with the electronic part and sometimes independently of it. The electronic part itself is mostly derived from the sounds of extended electric harp techniques, so that, as in mirage, the two instruments are able to merge with one another to the point of industinguishability, as opposed to the situations in nocturnes and šuma where they remain timbrally distinct and interweave on other musical levels (or sometimes not).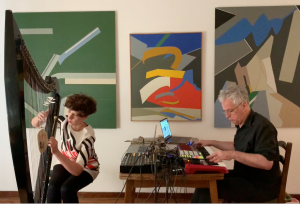 sphinx returns to the acoustic harp, but used now as a sound source for a fixed media electronic piece, conceived and composed for binaural listening using headphones. The materials on which the music is based are harp recordings, some freely improvised and others concentrating on specific techniques, which were then categorised, transformed in diverse ways and assembled into an ensemble of multitimbral harps that passes through several distinct phases, each focusing on a central idea (frictional sounds, melodies, tremoli, resonant chords, harmonics) around which various divergent processes and events take shape. When planning our duo concert in Šabac, we decided to develop sphinx into a piece for live performance, which became mirage. The components of that electronic piece were once more disassembled to provide sound material for my computer instrument, and the harp techniques used to record them were reassembled into a live strand, expanded by the addition of some small percussion instruments. mirage isn't an attempt to recreate sphinx, but an independent composition meeting it at various tangential points, whose character depends crucially on spontaneous real-time interactions, while at the same time embodying a further phase in the same composition process.
Mirage is also a video performance, performed online, in collaboration with the video animation artist Incredible Bob.
_____________________________________________________________________________________
pēktis for solo harp (+ voice)
commissioned by Milana Zarić
to Brian Ferneyhough on the occasion of his 80th birthday
first performed at Studio Z, St.Paul, USA, April 2023.
below >>  filmed at Zepter Museum, Belgrade in August 2023.
_________________________________________________________________________________________
tendril, live performance from Spectrum, New York City, June 2015
recorded by Lawrence de Martin
Performances in 2023:
Bangor Music Festival, Wales, February 2023.
Residency at Twin Cities, US, April 2023.
Lectures at Buffalo University, US, April 2023.
Wien Modern Festival, Celeste, Vienna, November 2023. Improvised music concert with Elisabeth Harnik.