Electroacoustic duo with Richard Barrett
Milana Zarić, acoustic/electric harps, electronics
Richard Barrett, electronics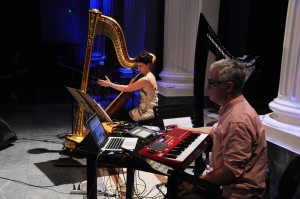 Milana and Richard started collaborating in 2011 in the Sonology Ensemble at Institute of Sonology, Royal Conservatoire in The Hague. Since 2013, they have been regularly performing as a duet, and also in collaboration with musicians in Serbia (Ensemble Studio6), Hungary (Zsolt Sőrés Ahad), Singapore (Tim O'Dwyer), Melbourne (Dave Brown, Ensemble Golden Fur), New York (Lester St.Louis, Christopher McIntyre, Peter Evans), Wales (Rhodri Davies), Minneapolis (Maja Radovanlija, Collective 113, 6 Families)
Richard and Milana perform composed, as well as freely improvised music, most often in the same context. Richard wrote tendril for harp and electronics in 2013, and since then, it has been performed at Ring Ring festival in Belgrade, Showroom of contemporary sound festival in Zagreb, City University London, Guildhall School of Music, London, Richard Barrett@Spectrum in New York City, Melbourne, Singapore, Novi Sad, Birmingham Conservatoire, Swansea NAWR series, University of Minnesota and Cal Arts in LA.
šuma for harp and electronics, the last part of close-up for 6 players in 6 parts, has been performed at NOVA Festival and International Review of Composers Festival in Serbia in 2017. In November 2017 it was performed in Minneapolis and LA, and in January 2018, in Birmingham and London.
Nocturnes is a collaborative piece for electric harp and electronics, which the duet premiered in Serbia in 2019, but which was also a part of their UK tour in October 2019 (Manchester, Leeds, York, North Wales)
Milana and Richard premiered a virtual concert on You Tube on 7 June 2020, called Restless Horizon. It consisted of four collaborative pieces, two of which were performed for the first time. Restless Horizon takes its name after a painting hung behind the performers in the video, by the Serbian modernist painter Stojan Ćelić (1925-1992). Sphinx is a fixed media binaural electronic piece, accompanied by an original video.
In 2021, they formed a Bandcamp label Strange Strings, where their fist album was released – Mirage. Mirage is also a video performance, available on You Tube.
The duet has been chosen to perform at the World Harp Congress in Cardiff, Wales in July 2022.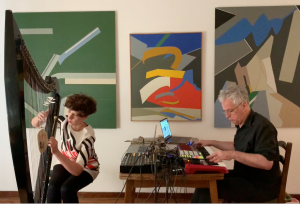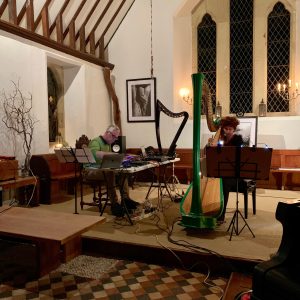 tendril, live performance from Spectrum, New York City, June 2015
recorded by Lawrence de Martin