Solo and chamber music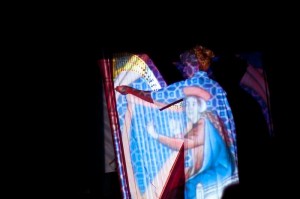 Solo work
During the course of her studies in Belgrade and London, Milana won several prizes and scholarships, which enabled her to perform solo recitals at the Painted Hall of the Old Royal Naval College in Greenwich, Wigmore Hall, Blackheath Halls and Fairfield Halls in London, and at numerous venues in Belgrade.
Since 2007, Milana has been regularly appearing as concerto soloist in Serbia and the Netherlands.
Under the direction of David Porcelijn, she performed Petite Symphonie Concertante for harp, piano, harpsichord and string orchestra, by Frank Martin, at the Kolarac Foundaton Hall. She also gave a Serbian premiere of Andre Caplet's La conte fantastique (after E.A.Poe's Mask of the red death) for harp and string orchestra, a critically acclaimed concert, held at The City Hall of Belgrade, with Ljubica Maric string chamber orchestra. In 2009, Milana has been one of the soloists performing at the Ljubica Maric's Centenary of birth Festival, held in Belgrade and Amsterdam, with the ensemble directed by the acclaimed composer Isidora Žebeljan.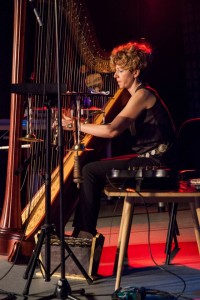 Since 2010, Milana has performed solo at festivals International review of composers and International harp festival in Belgrade, The NEW festival in The Hague, November music in Den Bosch, Rotterdam Operadagen,  Showroom of contemporary sound festival in Zagreb, at City University in London and the Richard Barrett@Spectrum festival in New York City.
She has given many Serbian premieres of  seminal works of modern and contemporary repertoire for harp, such as L.Berio Sequenza II, S.Bussotti Fragmentations, F.Donatoni's Marches, R.Murray Schafer's Crown of Ariadne, K.Saariaho's Fall, H.Birtwistle's Crowd, S.Steen-Anderson's History of my instrument, C.Wolff's For harp player, as well as her own arrangements: A.Ginastera's Harp concerto op.25, for harp solo, two pianists and three percussionists.
In 2014, she has appeared as soloist with Belgrade Philharmonic Orchestra, under the direction of Uroš Lajovic. In 2022, she appeared as a co-soloist with Belgrade Philharmonic, under the direction of Gabriel Feltz.
So far, Milana has commissioned and gave world premieres of solo harp pieces by Richard Barrett, James Erber, Hugo Morales, Falk Huebner, Teodora Stepančić, Ana Gnjatović and Svetlana Maraš.  Although very different in their musical language, all the commissioned pieces tend to explore previously unmarked territory of harp possibilities, based on Milana's unique extended techniques and experience in improvised music. The score of Teodora Stepančić's Harp in a box states that the harp lies horizontally and the harpist plays as well as manipulates minute preparations with the help of a ventilator. Hugo Morales' Torque uses DC motors, which, attached to the harp, move the strings, and create overwhelming resonances and overtones. Falk Huebner's Living Room is a staged piece for harpist, soundtrack and video, in which Milana plays live together with her own pre-recorded sound in a labyrinthine climax of the piece. Richard Barrett's new piece pektis was commissioned by Milana in 2022, and it is for harp solo with addition of voice, based on texts by ancient poet Sappho. Barrett's tendril and cyme can be performed solo or with electronics – the piece focuses on the points of contact between a complex and detailed score and freely improvised parts, based on the interplay between electronics and harp. Svetlana Maraš composed Codon 24 in similar vein, building her electronic enhancement on the sound of the electric harp.
Milana will be premiering three new solo works at Bangor Music Festival in February 2023.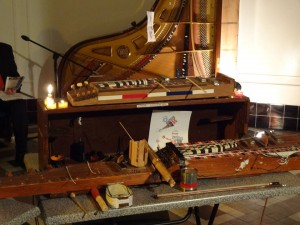 Since 2014, Milana has been performing on an instrument called zitherphone, an unique instrument built by the late composer Ernő Király. Zitherphone, which is in fact a connected and ampflified set of Central European folk zithers, has been lent by the composer's estate in Bajot, Hungary, to Milana and Ensemble Studio6 exclusively. The instrument is mostly used in performances of Kiraly's unique body of work, such as the solo pieces Phoenix, Sonata geometrica and Zitherphonia.
Milana often performs with a set of percussion and a zither. Lately, her focus has been turned to developing her own live electronics, in combination with her electric harp.
Chamber music 
Milana has been an avid ensemble player ever since winning a violin and harp duo prize at Stresa international chamber music competition, Italy, in 1995.
One of the highlights of her consequent Belgrade studies occurred  during the NATO bombing of Belgrade in 1999. She organised an ensemble and performed Ravel's Introduction and Allegro to a full house at the Etnography museum during an air raid in the city.
Upon starting her professional carreer as principal harpist with The Belgrade Philharmonic Orchestra, a flute, viola and harp trio Timbre was formed, together with her orchestra colleagues, principals Marina Nenadović and Boris Brezovac. Trio has been active from 2006 to 2013, and has performed in concerts and festivals in many cities in Serbia and abroad. They gave Serbian premieres by composers such as Takemitsu and Gubaidulina, but also commissioned new works by Serbian composers, such as Sonja Mutić.
Apart from regular ensembles, which also include a flute and harp, Milana cooperated many times with late composer Isidora Žebeljan and oboist Borislav Čičovački, and participated in various formations of their ensemble at home and abroad, ever since the great success of Isidora'a chamber opera Zora D, which was performed in various European cities. During these collaborative and very productive years with Ensemble Zebeljan, Milana participated in various performances of Serbian heritage music by composers such as Ljubica Marić, Enriko Josif, Milan Ristić, Vasilije Mokranjac, and made recordings and public broadcasts.
During her two year residency in the Netherlands, Milana performed regularly with new music ensembles. In summer of 2009 she was the harpist of the Nieuw and Atlas ensembles at the first Atlas Academy, held in Amsterdam. Subsequently, she appeared with the Omnibus ensemble, under the direction of Artjom Kim, performing at the Musiekgebouw in Amsterdam, in front of HM, the Queen of Netherlands. In the season 2010/2011, Milana was the principal harpist of the Ligety Adacemy ensemble, under the leadership of the Asko/Schoenberg ensemble in Amsterdam. At the Royal Conservatoire in The Hague, she advocated for new music for the harp and participated in countless performances of new pieces by the composition department faculty and students, the highlight of which being the defiant performance of De Staat by Louis Andriessen, during the Spring Festival in 2010. Also at the Conservatoire, an unusual quintet fas formed, the Alquimia ensemble, consisting of soprano, flute, harp, double bass and percussion, together with her friends and colleagues. The ensemble,  initially gathered around the performance of G.Crumb's Madrigals, commissioned and performed new pieces from young composers based in the Netherlands. Apart from these, Milana also appeared in performances of Modelo62 and Den Haag All Stars ensembles, in places such as Korzo Theater, Loos Studio, Het Nutshuis and Barthkapel in The Hague.
Since 2012, Milana has been successfully leading Ensemble Studio 6, travelling around Europe and being regularly supported by the Ministry of Culture in Serbia for their innovative concert series.
She is in a regular duet with composer/performer Richard Barrett, with whom she has travelled extensively (around Europe, UK, USA, Singapore and Australia), and premiered many collaborative works for harp and electronics.
Apart from her regular ensembles, Milana has recently performed in duets with harpist Gorana Ćurgus, violist Saša Mirković, oboist Sanja Romić, violinist Miljana Popović Materni, as well as in trio and quintet formations with colleagues from Belgrade Philharmonic Orchestra and Ensemble Metamorfozis.