Studio 6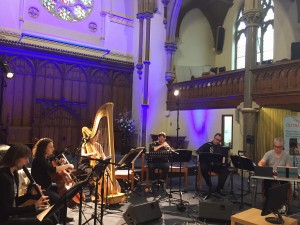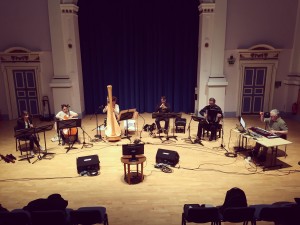 Studio 6 is a collective of Serbian performing musicians devoted to promotion of today's music. A modular ensemble, which includes Baroque flutes, trumpet, harp, accordion, cello and electronics, gathers internationally acclaimed performers of composed and improvised music. The artistic goal of the ensemble is to encourage a dialogue between listening, interpreting and creating in contemporary music. Co-founder and artistic director of Studio 6 is Milana Zarić.
Their activities range from Serbian first performances of 20th century solo and chamber repertoire, to educational workshops for students and performances of experimental pieces by composers and sound artists. Special attention is given to commissioning and creative collaboration on new pieces, given the possibilities of the ensemble's un-orthodox instrumentation, as well as welcomed additions of other performing arts, such as theatre, dance and video. In addition, an extensive research is conducted towards the avantgarde composers of the Yugoslav era, such as Ernö Király. Ensemble has performed on original instruments made by the composer – zitherphone and tablaphone. 
Past collaborators include Richard Barrett, Agustí Fernandez, Reinhold Friedl, Heiner Goebbels, Jonas Kocher, Katalin Ladik, Svetlana Maraš, Ensemble Phoenix Basel, Ensemble Proton Bern, visual artists Biljana Djurdjević, Incredible Bob, Rodrigo Casares.
Ensemble Studio6 has been supported by the Serbian Ministry of Culture for their innovative concert seasons 2014-2021; also by Ernst von Siemens Foundation, SOKOJ Fund for culture, Hinrichsen Foundation, Ralph Vaughan Williams Foundation, Société de Musique Contemporaine Lausanne (SMC), IGNM Basel
Collective Studio 6 is one of the partner in current project Gender equality = Cultural diversity, supported by UNESCO International Fund for Cultural Diversity (2021-2023).
selected activities:
September 2022 Electroacoustic trio of Ensemble Studio6, Bitef Polifonija Festival, Genius of the moment, workshop and interactive lecture
Concert season 2021: New Reflexions, 5 concerts in Belgrade, Novi Sad, Niš, in partnership with permanent antifestival 2K+ Novi Sad, Niš and Zrenjanin Cultural centres, Belgrade Philharmonic Hall, Sombor National Theatre; works by Richard Barrett, Gilles Binchois/Barrett, Harrison Birtwistle, Milica Djordjević, G.Dufay/Barrett, Hildegard von Bingen/Zarić, Bernhard Lang, G.de Machaut/Barrett, Pauline Oliveros, Francesca Verunelli, Isidora Žebeljan  
November 2021 Ring Ring Festival – Re-interpretations, electronic works reinterpreted for acoustic ensemble
September 2021 Swiss tour – Biel/Bienne, Basel, Zurich, Lausanne;                                                  Ensemble Studio 6 with Jonas Kocher, Belonging.With works by J.Kocher, Sonja Mutić, Jurg Frey, Erno Kiraly
Concert season 2020 During pandemic and lockdowns, ensemble has managed to maintain its activities, by broadcasting online concerts, as well as live performances for small audience in Belgrade Šabac and Novi Sad, in partnership with Italian Cultural Centre Belgrade, Jewish Museum in Šabac, Matica Srpska Gallery in Novi Sad. With works by Electroacoustic duo Zarić-Barrett (original music) + visual artist Incredible Bob; L.Berio, F.Donatoni, J.Marković…
Concert season 2019 realised in Belgrade, Subotica, Kragujevac, in cooperation with Jonas Kocher, Belgrade Philharmonic Hall, Fondacija Saša Marčeta. With works by J.Kocher, Sonja Mutić, Jurg Frey, Erno Kiraly, Mauricio Kagel 
2019 Erno Kiraly – Centenary of birth concerts, Collegium Hungaricum Belgrade, 2K+ Svilara, Novi Sad
UK tour 6-10 March 2018
Ensemble Studio6 + Richard Barrett: close-up, for six players in six parts
Concerts in London, Leeds and Oxford + BBC Radio 3 Broadcast 'Hear and Now'

Richard Barrett: Codex XII
first performance, April 2013, Cultural centre Rex, Belgrade
Berio / Donatoni, Classics of modern music, October 2020
Erno Kiraly – Centennary of birth, Ensemble Studio 6 with Katalin Ladik, Zsolt Sores and Richard Barrett, 2019.
Intimate rituals project, Novi Sad, December 2014
music by E.Kiraly and H.Radulescu
Songs of wars I have seen by Heiner Goebbels
performed at BEMUS festival, Belgrade Drama Theatre, October 2013
https://www.facebook.com/ensemble.studiosest
https://www.facebook.com/Studio6-Contemporary-Music-Collective-100284498509381