Improvisation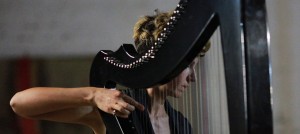 Milana has been actively engaged in free improvisation since 2009. Her Master thesis at the Royal Conservatoire in The Hague, entitled Structuring free improvisation, dealt with work dynamics of a plucked strings and percussion ensemble (Ensemble Echoes). It was a one year project during which the group regularly met and explored micro sounds, overtones and resonances between following instruments – the harp, piano, acoustic guitar, koto, double bass, percussion…
Over the course of her specialization in The Hague, she has participated in workshops and performances with Richard Barrett, Peter van Bergen, Anne la Berge, Butch Morris, Evan Parker, Augusti Fernandez, Yedo Gibson, Mary Oliver, Wiek Hijmans, Marie Guilleray, Raoul van der Weide etc.
Performance highlights include concerts with Sonology Electro Acoustic Ensemble; Butch Morris' Conduction;  duet with Interactive Orchestral Machine, conceived and built by Peter van Bergen; dance and music improvised performances, with Mary Oliver, Michael Schumacher and Katie Duck.
Other projects include an ensemble of strings and percussion with Iranian and Middle Eastern instruments  (qanun, santur, setar, kemence and tombak). The project, conceived as an exchange between improvising traditions of Europen and Asian musicians, was part of the Atlas academy 2009 and 2010, organized by the Nieuw Ensemble in Amsterdam.
For the Spring Festival solo harp improvisation performance in 2011, Milana has collaborated with saxophonist and improviser Yedo Gibson. During the process of working on the piece, the intent was to communicate outside of boundaries of typical composer – performer relation, hence there was no score.
The result was freely improvised material, by Milana Zaric, stemming from ideas, concepts and tools used in improvisation by Yedo Gibson.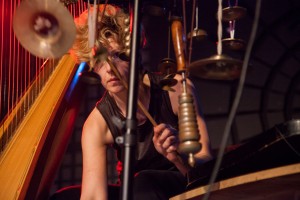 Back in Belgrade, Milana co-founded a collective for improvised music performance, ImprovE2. The monthly series of concerts, installations, site specific interventions was organized every month, at different venues in and around Belgrade. Between 2012 and 2015, the collective organized more than 30 events, with a wide array of performers from all around Europe.  More info>> http://improve-bg.weebly.com
Since 2014, Milana has performed at New York's Spectrum (with Richard Barrett, Peter Evans, Christopher McIntyre etc.); at Ring Ring Festival Belgrade (Zsolt Sores and Agusti Fernandez respectively), Showroom of contemporary sound festival in Zagreb (with Ensemble Studio6, Alen Sinkauz, W0o and Svetlana Maraš); Singapore (with Tim O'Dwyer), Budapest (with Zsolt Sőrés), Melbourne (with Golden Fur ensemble; with Dave Brown; at Make it up club), Subotica (Jazzire festival, with Yedo Gibson and Vasco Trilla), Minneapolis (with Maja Radovanlija and 113 Composers Collective), with Katalin Ladik, Jonas Kocher, Reinhold Friedl, Annie Gosfield, Chris Cutler and others. In November 2021 she was given carte blanche to invite artists to perform with at the 25th Ring Ring Festival, and the resulting trio with Frances-Marie Uitti and Elisabeth Harnik performed during a live broadcast from Radio Belgrade. In 2020, Milana initiated a quarantine remote project with fellow Serbian women improvisers Marina Džukljev, Manja Ristić and Ivana Grahovac, Strange Strings #3. In 2021 Milana initiated an electroacoustic quartet with Richard Barrett and Marina Džukljev – they performed at Bitef Polifonija Festival, and in 2022 they teamed up with violinist Biliana Vouchkova concerts and recording sessions. In 2023, Ensemble Studio 6 participated in Festival in Opposition in Novi Sad, an open platform for communication and improvisation, and performed there with several amazing musicians, including Dejana Sekulić.  In 2023 she will perform at Wien Modern Festival as part of an improvised ensemble with Elisabeth Harnik, and in 2024 she will take part in Evan Parker's Electroacoustic ensemble in Essen.
Recordings with E.Harnik and F.M.Uitti are to be released on Bandcamp page Strange strings….
Recordings with M.Dzukljev and B.Vouchkova are to be released in 2024…
with Ensemble Echoes, De Regentes Theatre, The Hague, June 2011 >>>
ImprovE2.12, December 2013, KM8, with R.Barrett, R.Cezares, T.Stepančić, R.Popović, A.Berendika, Dj.Marković and I.Čubrilović >>>
solo improvisation at Dom Omladine, Beograd, ImprovE2.1, January 2013>>